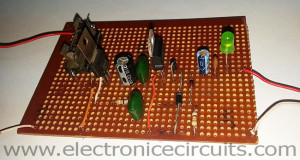 7805 5V 1 Amp Regulated Power Supply with Overvoltage Protection Circuit
This is the 7805 5 volts 1 ampere Regulator with Overvoltage Protection Circuit. Most of the COMS, microcontrollers and TTL ICs require a well regulated power supply. these ICs can easily damage when supply voltage is increased. basically this circuit provides overvoltage protection but it has over current, reverse polarity, and the regulator IC protection. So you don't need to worry about power supply.
PARTS LIST
R1
330Ω ¼W
R2
33Ω ¼W
R3
220Ω ¼W
C1
100µF 50V
C2
0.1µF
C3
10µF 16V
C4
0.01µF
C5
0.1µF
D1
1N4001
D2
1N4001
D3
6.2V Zener Diode ¼W
D4
LED
IC1
7805 regulator IC
SCR1
2P4M OR Similar 2A SCR
F1
1A FUSE
Our circuit design using 5V regulator IC, SCR and ZENER diode. Actually this is a crowbar circuit. It is an electrical circuit used to prevent an overvoltage condition of a power supply unit from damaging the circuits attached to the power supply. If the voltage regulator (7805) is faulty, the supply voltage could be applied to the load and it will damage our sensitive circuits. So we need this type of protection circuit. 
When the output voltage exceeds 6.2V, Zener diode conducts. That voltage will switch on SCR, so this provides a short circuit to ground and fuse will be blown. The C1 capacitor is present to ensure that short spikes to not trigger the SCR. Also you can change the protection level by varying the values of D3 and R1. The D1 provides reverse bias protection and D2 provides output polarity reversal protection to the regulator IC.
If you get more than 400mA current, please use this regulator IC with suitable heat sink.
Please send your ideas, which are very important for our success…